Baseball
Tim Tebow Meets Autistic Boy During Game – Then Does Something He Will Never Forget
The magic touch.
If athletes are honest, they'll tell you they're superstitious. They believe in things like luck and faith and destiny.
They believe that silly little rituals can actually have an impact on their performance and the outcome of the contest…and you know, perhaps those rituals aren't so silly.
What do we know, really? Nobody can prove there's no such thing as luck.
And after you see this, you might just believe there's a little something beyond luck, something more closely related to the aforementioned faith.
During a St. Lucie Mets game versus the Charlotte Stone Crabs late last month, one autistic boy got the surprise of a lifetime, and he returned the favor almost instantaneously.
The ever-popular Tim Tebow was on deck when Seth Bosch, a high-functioning 10-year-old autistic boy, decided he'd take a shot at getting Tebow's attention. Kids do this all the time, if you didn't know.
When athletes are in the on-deck circle, it's your best shot at getting some acknowledgement from the player. Of course, you rarely get it but you can always try.
And try he did and because Tim Tebow is such a nice guy, he didn't just acknowledge Seth; he came right up and shook his hand.
That's what did it. Because seconds later, this happened:
Couldn't have scripted it any better, could you?
Tebow turns around and smacks a home run, much to the delight of Seth and all the fans behind him. The funny part is that his mother predicted it!
Bosch has hasneurofibromatosis, a genetic disorder that produces tumors on nerve tissue, and he has a tumor behind his right eye that makes it tough to play sports.
But on that day, he was king. He had the good luck touch and Tebow turned it into three runs for the home team (two men were on base when he cracked the homer).
"When Seth came back to his seat, he was crying," Seth Bosch's mother Ileanna told the Tampa Bay Times.

"And then Tim hit the homer. I started crying, too. How does that happen? I think God brought Seth and Tim together."
But it didn't end there because after the game, Tebow met with Seth again and got a couple pictures taken.
This is the sort of thing that more athletes need to do because if kids are going to look up to these guys, they better be role models. And if they can shake a hand, they should shake a hand.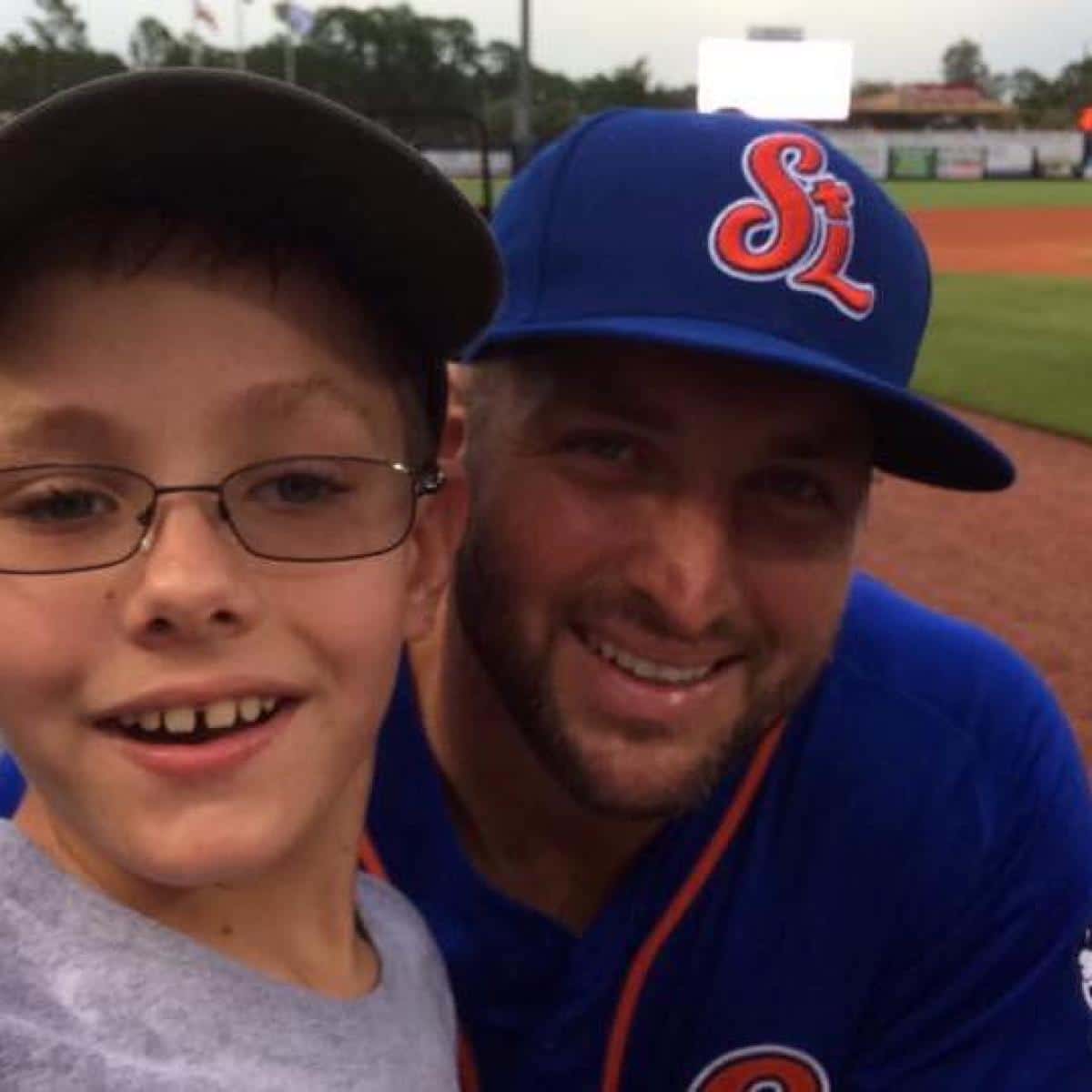 Not only will you endear yourself to your fans (always important) but you might just also get a stroke of luck at just the right time…
Too many nasty stories circulate in the media; there are far too many selfish, obnoxious punks playing professional sports today, so the "role model" can be difficult to find.
Tebow certainly qualifies, though.
Karma believers, faith believers, luck believers; this is right up your alley.
But even beyond that, it's a classic feel-good story that'll never get old, no matter how many times you see it or hear it. And those stories are endlessly special.
Source: New York Daily News