Disability
Man With Cerebral Palsy Struggles To Eat And Is Bowled Over By Server's Kindness
Lee Bondurant from Raleigh, North Carolina has cerebral palsy, but he is still very independent.
He works for Kroger and stays active, but he no longer has use of his hands and needs help eating.
He remains an inspiration for everyone afflicted with the disease, however, and his smiling face is a testament to his determination.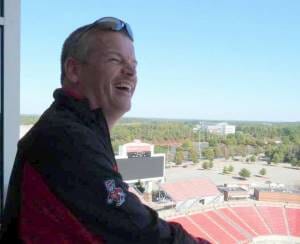 One summer evening, Lee and his mom, Linda decided to go out to dinner at a the local seafood restaurant, the 42nd Street Oyster Bar.
Their waiter that night, Five, is a college student who works at the restaurant part-time.
He took their order and brought out their meals. That's when he noticed that Linda was having a hard time feeding Lee.
He said, "Seafood is best eaten hot, so I didn't want her food to get cold.
I didn't want his food to get cold. I just wanted to help a fellow man out."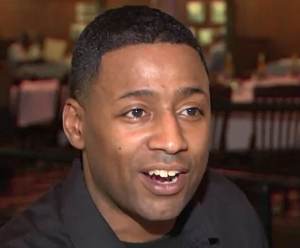 So Five cheerfully approached them.
"He casually came over and asked Lee if he had ever had oysters… Lee told him he had not.
So, [Five] asked [if he] could he serve him his first. It was smooth not to embarrass Lee. Just offering [to] share in the experience."
Though Lee doesn't usually allow people who he doesn't know feed him, he agreed took up Five's offer on the oysters.
Lee later told ABC News "I genuinely appreciated what he did, an act of kindness."
Linda snapped a quick photo of the moment and posted it on her Facebook page.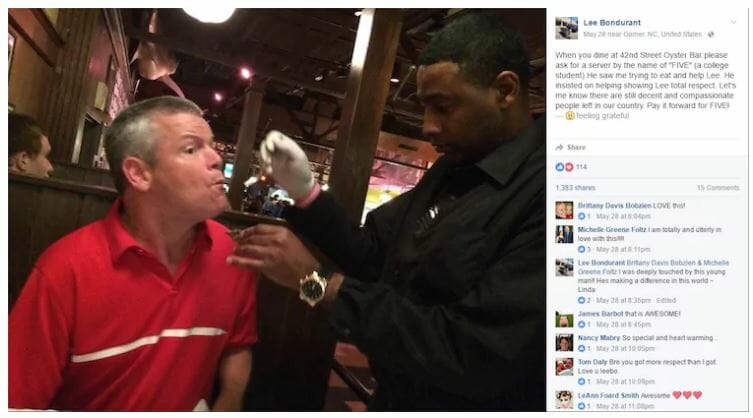 It quickly went viral with readers praising Five's compassion.
But Five had no clue because he's so busy with school and work he doesn't have time for Facebook; he doesn't even have an account.
However, he started getting recognized and things were happening that had him a little puzzled.
"I'm going into the gas station and somebody wants to buy me gas, I'm like 'no!'" he said.
His boss finally clued him in on what was happening and Five couldn't believe it!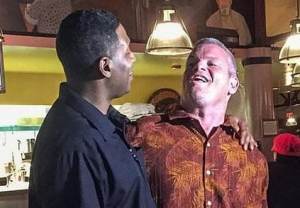 Since their encounter, Lee and Five have become very good friends.
Lee said of their friendship:
"I'm glad I met Five, he's a real good friend of mine. I'm very blessed.

It shows there are good people in the world still."
Indeed it does. 😀
Source: Diply