Animals
Rescued Pitbull Mama Just Gave Her Foster Mom The Ultimate Gift
Motherhood is tough.
Ask any new mother and she'll likely tell you she suffered from sheer panic the first time the nurse put that baby into their arms.
Some people think of animals as being unemotional machines that pop out babies and keep them alive only because of instinct.
But in fact, dogs and cats feel the same maternal instincts that  human parents feel. And the same fears.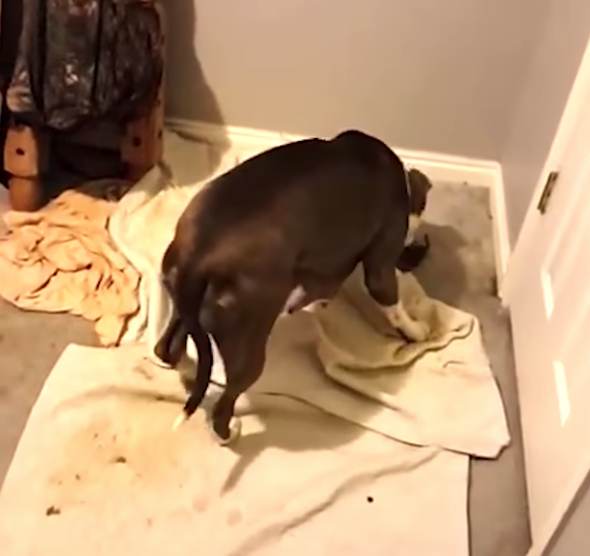 One sweet pitbull girl was rescued after what was probably a lifetime of abuse, and then the vet discovered that she was pregnant.
Not wanting to deliver a litter of puppies at the shelter, the rescue searched for a foster for her.
Finally, someone stepped up and agreed to care for mom and responsibly raise and socialize the puppies until they were old enough to be adopted.
The mama dog was so grateful to finally be in a real home! She really bonded with her foster mom, who fell in love with the sweet gentle girl.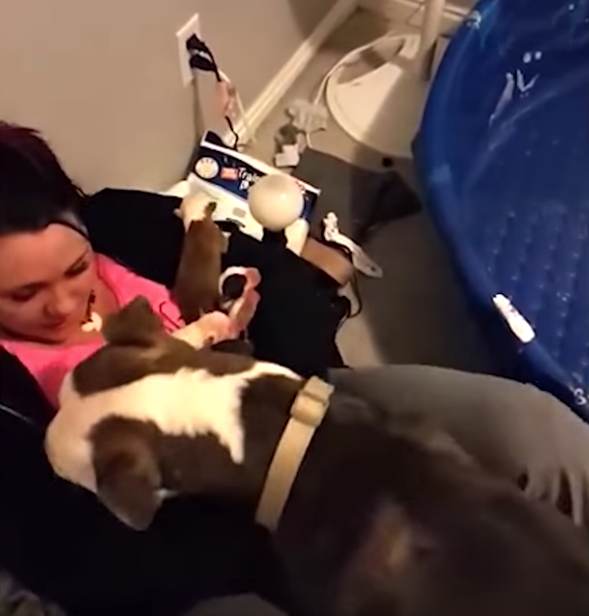 Finally it was time for the babies to be born: The mother had a nice bed of warm blankets in the family's living room, and the foster mom was there for the delivery.
Once all the babies were delivered, cleaned up and had nursed, it was obvious that the mama dog was suffering from those pangs of anxiety that hit new human mothers.
She suddenly got up and started carrying the babies to her foster mom!
One by one she carried them carefully to her, placing them precisely and gently into the waiting owner's arms.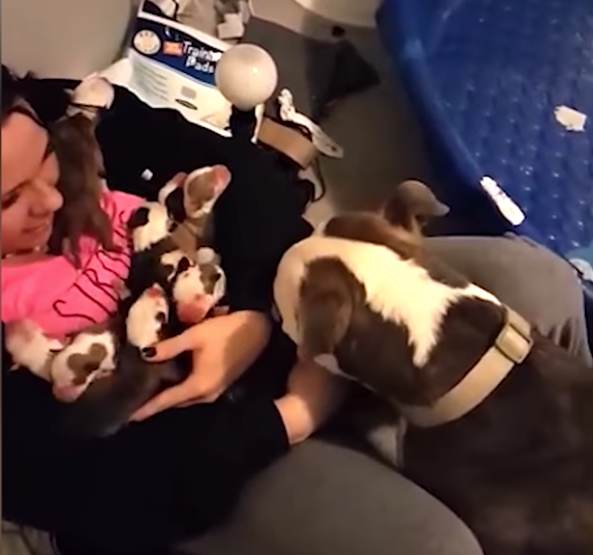 Ten trips she made until the woman's arms were teeming with squirming, fat, healthy, happy warm puppies.
Only then did the sweet tired dog mama curl up beside her foster mom with the arm full of babies, and fall asleep. Such a beautiful thing to see!
Thanks SO much to the shelter that took in this sweet and gentle girl and gave her a second chance.
Thanks also to the foster mom that provided a safe birthing place for the babies, and gave the mama dog the necessary feeling of trust and belonging that it takes to raise a family!
Source: The Pet Collective