Animals
Broken-Hearted Cinnamon Sheds Tears On Camera…And Those Tears Instantly Change Her Life
Cinnamon sat, grief-stricken and alone, in her cage at a North Carolina animal shelter.
Not only was she homeless, she had also lost the puppies she'd just delivered…a very sad story,  to say the least.
She was recently rescued from a breeder where all signs showed she delivered many litters, but she never got to play the role of mamma for very long.
And unfortunately, so many animals were being surrendered to the shelter, Cinnamon kept getting passed over and ignored.
But Sarah Sleime, an SPCA volunteer, was visiting the shelter and couldn't help but notice Cinnamon.
"I just saw this pit bull sitting there, and she was very human-like, slumped over and very solemn," Sleime said.

"So I bent over and started talking to her."
Cinnamon responded with a tearful look and made a crying sound as Sleime spoke softly to her. The dog was obviously sad and it didn't help that she was in poor condition physically.
But for Sarah, she was irresistible.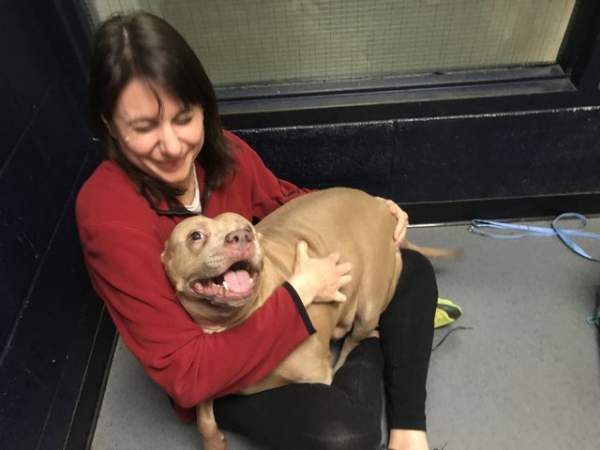 So, Slieme decided recorded video of the pit bull, then posted it online and it garnered more than 700,000 views from around the world.
Sleime's friend, Megan Shelton, was taken aback by the incredibly emotional video.
"I have a special place in my heart for pit bulls," Shelton said.

"I think they're a very misunderstood dog and a misunderstood breed. And when I saw her in that video, literally crying in a cage, I cried.

My kids cried. I showed my husband, and he said we could go look at her tomorrow."
Their meeting at the shelter with the crying pit bull was truly meant to be.
As soon as the dog entered the room she immediately connected with Shelton and her kids; the suddenly happy dog sat on their laps and knocked the kids over in excitement.
The family decided to adopt the pit bull, now called Rosie, and they brought her home to meet their other pit bull, Blu.
One big happy family!
Rosie now gladly escorts the children to the school bus when she's not lounging in Shelton's home office next to her desk, with Blu on the other side.
Rosie and her new family have much to be thankful for these days, and thankful Rosie didn't stay another day in the shelter.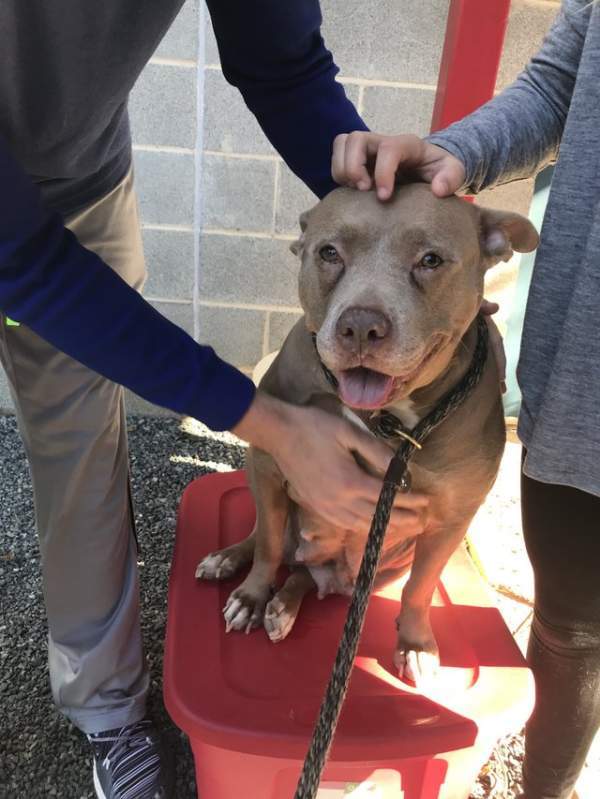 See? This is why you should always consider adopting, especially in regards to animals who have had an especially rough time.
The Sheltons definitely saved a life here, and you can too!
Source: DoggiesCare