Animals
Hiker Spots Snow-Covered Box, Peeks Inside, And His Heart Freezes Solid
How some evil people treat animals is just beyond comprehension.
One father knows this better than anyone, as he'll never forget what he found when out hiking in a snow-covered wilderness.
One frigid evening back in December of 2013, an Imgur user uploaded a few photos of dad's heartbreaking encounter, and it's a story of both sadness and wonderful redemption.
The user, Provinciallife, said dad had found a little white box out in the middle of nowhere, and he'd thought he'd heard a noise coming from inside.
He crept closer and peeked inside, and he saw a food bowl and the edge of an old, frayed blanket.
And he saw something else, too. Actually, two somethings: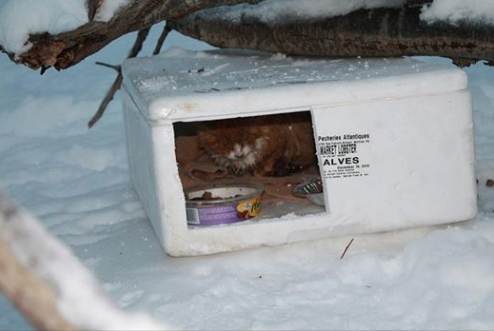 "My dad came home after work and told me he found a box with two kittens in it. I didn't prepare myself for what we found.
"He told me he found a box with two kittens after getting a complaint in this particular area about the roads being blocked with snow.
We returned after work to see if the kittens had been picked up. This is what we saw."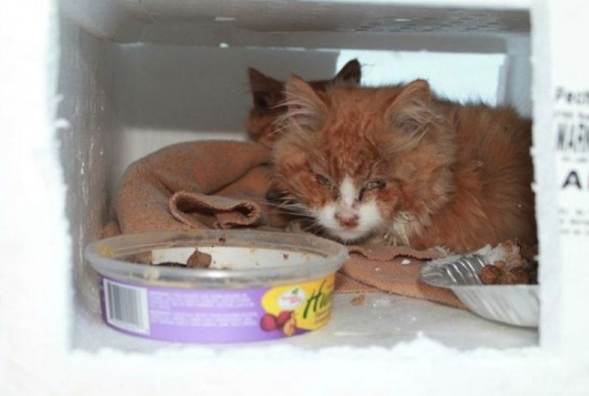 They couldn't believe it. The kittens were alive but only barely:
"When I peaked [sic] in, my heart broke. This kitten is obviously very sick and cold. There's two dishes of food with a blanket."
They quickly brought the two cold, lost souls home, and gave them both a nice warm bath. Both kittens were obviously starving and still terrified but after the bath and some food, they started to perk right up.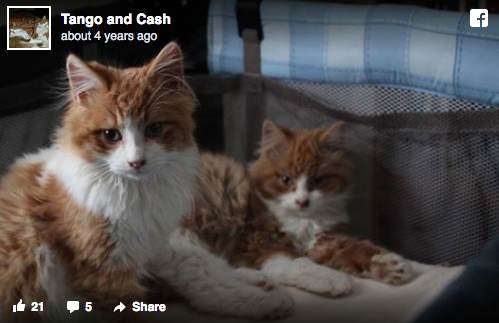 The family named their two male kitty additions Tango and Cash, and were happy to see they were doing okay!
Lastly, the rescuers posted a poignant message to all cat owners, and everyone who's thinking of owning a cat:
"If you're going to get a cat, make sure you do research first. Cats are a furrever friend.
They're not disposable, despite what the person who abandoned these cats might think."
Truer words have never been written!
Source: NTD.TV