Animals
Mom Spots Adorable Dachshund…Then Her Daughter Sees What It Really Is, And Bursts Into Laughter
You gotta love a family member who pulls a "Mr. Magoo" in public.
It's the situation where the lovable person mistakes an odd object for something cute, but the object of their affection isn't really there.
Case in point:
Hannah Murphy was dining with her mom at a lovely outdoor patio bistro when her mom started giggling.
Not the giggle and stop scenario, but all-out giggling like a child who discovered something hilarious in her universe.
Murphy was perplexed as her mom explained between the giggling.
"Take a look at that adorable dachshund," Murphy's mom explained as she pointed across the patio.
Her mom pointed at a brown object scrunched against the leg of a chair where a woman sat at a nearby table.
Murphy eyed the "cute" thing, and suddenly burst into laughter.
my mother was giggling at this and told me to "take a look at that adorable dachshund, he's sleeping", she was looking at a purse: pic.twitter.com/ZyNKaLMxKI

— Hannah Murphy (@dumb_hannah) July 30, 2017
Not because the "dog" was cute, but because her mom was so gleefully mistaken.
"She was looking at a purse," Murphy said matter-of-factly in a social media post.
Her mom was giggling at a cute "pup," when, in fact, it was just a lumpy, brown purse mashed against the chair leg: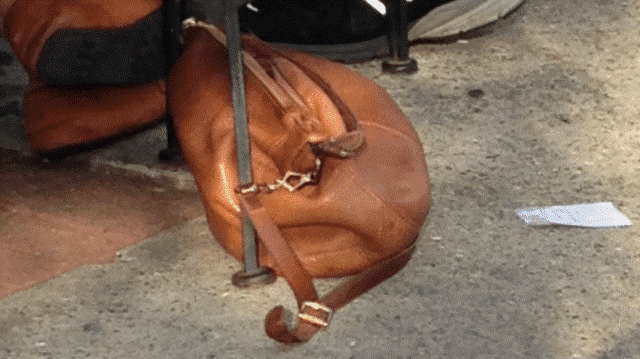 The mother-daughter duo had a great time laughing over the mistaken "cuteness."
Here's a side-by-side comparison of a cute pup and what this mom really saw: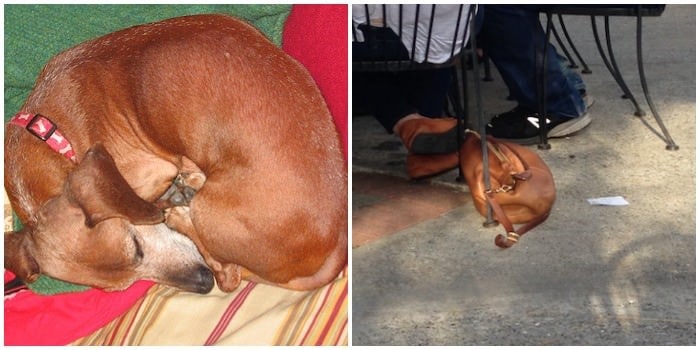 Murphy's mom might want to keep her eyeglasses handy.
Her spectacles may keep her from pulling a real "Mr. Magoo" and petting something other than a purse – something that might bite.
Source: iHeart Dogs