Animals
Rescuers Search Room to Room, Desperate to Find Her Missing Treasure
When meteorologists predict dangerously frigid temperatures, animal rescuers get very worried.
This means an already difficult job just got a whole lot tougher.
While wild animals (panthers, bobcats, wolves, coyotes, etc) can manage just fine in extreme temperatures, our domesticated house pets simply can't deal with them.
Certainly, newborn babies should never be exposed to changing temps.
When a nursing dog was recently seen near abandoned houses in St. Louis, rescuers knew it could be a life or death situation given the freezing weather.
Mom might be able to make it through the cold temps that were looming…but the puppies would almost definitely not.
So, rescuers from Stray Rescue of St. Louis headed out to find her and her puppies and get them to safety. When they arrived at the first house, they heard a dog barking.
This was a lucky break! Maybe they wouldn't have to go from house to house searching…
The house they were headed into was in deplorable condition; all of the windows were missing, piles of trash were scattered all throughout the rooms, and there was an extremely foul, pungent odor.
The mother dog greeted them from the top of a rickety staircase. It looked like it could barely bear her weight, much less that of a human.
They had hoped she would come to them, but she turned and ran back up another set of stairs and into a room.
She jumped on a horrid ripped and torn mattress and stood with front feet on the windowsill as if threatening to jump if they came closer.
Rescuers backed away and she calmed down a little. It was easy to see the fear in her eyes and it broke the rescuers hearts.
On top of which, they could hear her puppies crying from another room, which clearly distressed her even more.
They assumed she had been trying to lead them away from her puppies, hoping to save their lives even if it meant risking her own.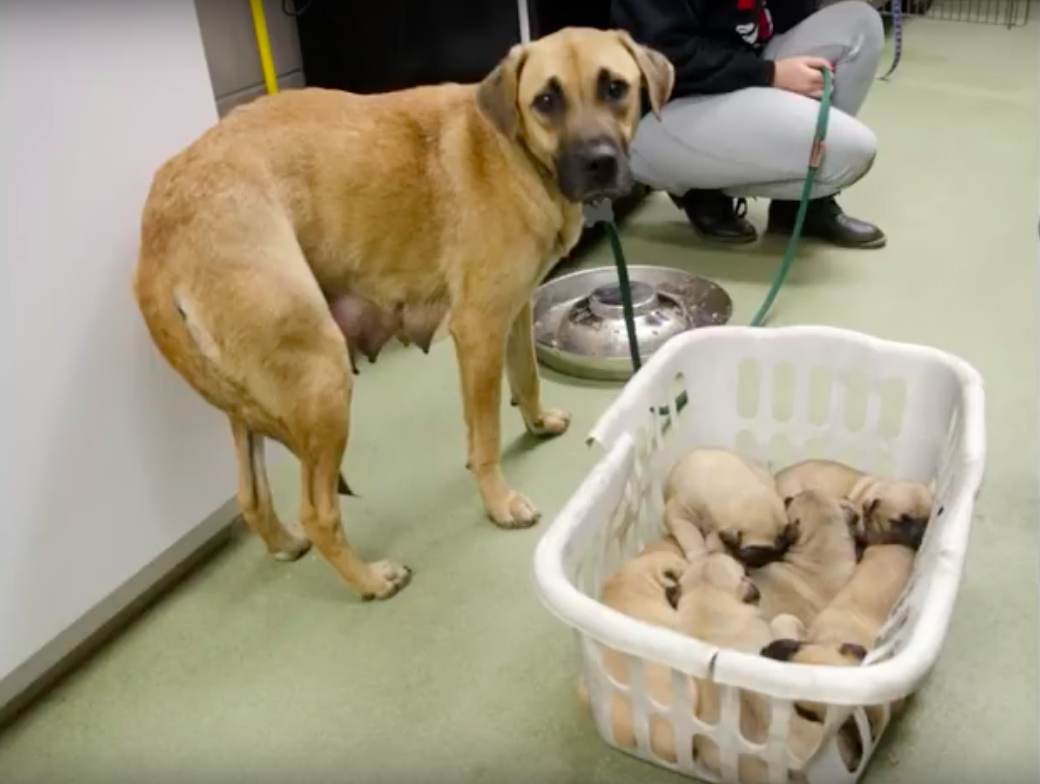 But they were determined to bring everyone back in good shape.
They took their time with her, coaxing her with treats and goodies and eventually were able to slip a leash over her head.
One of the men carried her down the stairs and to the waiting van while others split up to find the puppies.
In a room at the end of a dark, damp gloomy hall, they found the mother dog's treasure that she had tried to protect.
They found a pile of puppies, lying on a bed the mother had made from old clothes.
They were all huddled up together for comfort and warmth and thankfully, were in surprisingly good condition.
Mama dog had definitely done her job in creating and then protecting her greatest treasure!
Rescuers found a battered laundry basket nearby and began placing each puppy inside. The seven puppies were surprisingly chunky and very healthy looking.
They named the mother Champagne, and brought her and her puppies back to their shelter, where they'd finally be warm and safe.
Source: Mom And Her Pups Were Rescued From The Freezing Temperatures In St. Louis by StrayRescueSTL on Rumble
Once the mama dog realized that the humans meant her and her babies no harm, she relaxed.
We imagine it was the first real rest she had gotten since her babies were born. For once, she could relax knowing she had support to keep them alive!
No one will ever know her story, or how she came to be on the streets and pregnant. But, although we don't know her past, we do know her future:
Thanks to the great folks at Stray Rescue, we know she and her babies all have a great life ahead! 🙂
Source: Animal Rescue Site