Animals
Rescuers Near Panic-Stricken Stray, She Ducks Under A Railing, And Everyone Freezes
Have you ever been so frightened that you made a stupid mistake?
Rescuers know that when they're trying to catch a terrified stray, they have to be extremely careful.
Take this recent Hope for Paws case, for example:
A concerned citizen contacted the rescue organization about a small dog that had been sitting outside an apartment complex for days, scared and crying.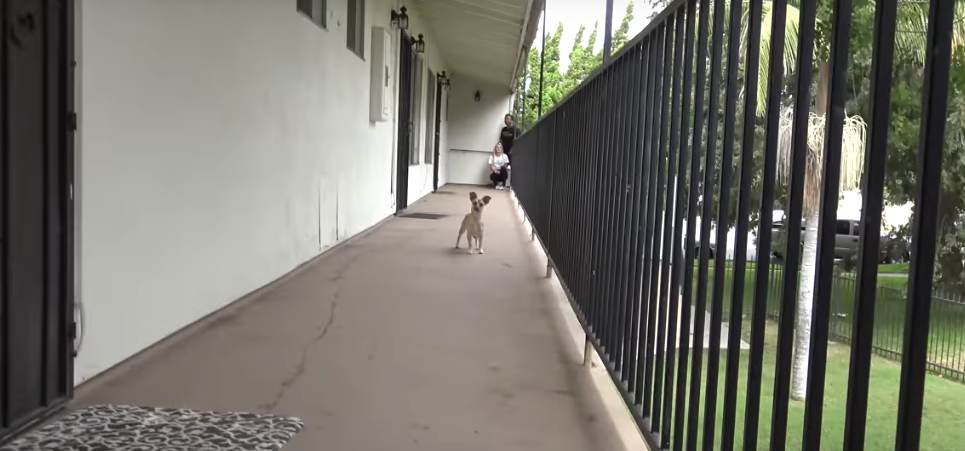 Hope for Paws immediately sent rescuers to try to catch the poor dog, and either find it's family or find it a new forever home.
They hoped the dog would be so frightened and lonely that she would rush into their arms. But instead, just the opposite happened…and it turned into a very tense situation!
She was so frightened when rescuers approached that she ran up the stairs of the apartment complex; rescuers blocked the stairways and closed in.
They realized their mistake almost immediately when the petrified creature squeezed under the railings of a balcony in an attempt to escape!
Realizing that she was putting her life in jeopardy, the rescuers quickly retreated. They waited with bated breath until the little dog eased her way back to safety.
Then they tried to tempt her with food, but she was too frightened to eat.
Once they thought she was coming towards them, and they breathed a sigh of relief.
But suddenly she jumped off the edge of the stairs and headed for freedom (luckily the stairs weren't very high off the ground)!
She didn't run too far away, though, and kept a watchful eye on the people she didn't realize were trying to save her life.
Finally, after carefully evaluating her reactions, the rescuers realized that she was most afraid of the men in the group.
So, the men moved back and left a female rescuer, Loreta, at the front.
Loreta sat down on the ground, to seem less threatening to the little dog, and offered her pieces of a cheeseburger.
Most of us find cheeseburgers hard to resist, and the little dog proved to be the same.
She edged closer and closer to Loreta until she was finally eating out of her hand.
Slowly and carefully Loreta reached out and captured her.
The little dog shrieked and wailed in fear, but slowly settled down when she realized she was being petted and loved instead of hurt.
It had taken Loreta almost an hour but finally she had the dog on a leash, and safe. The crowd of rescuers gave a quiet round of applause for a job well done!
They decided to name the little girl Saigon and were thrilled when the vet gave her a clean bill of health.
The biggest hurdles had been cleared. Now, to find her a home where she would never have to worry again about being abandoned!
Blessedly, with help from Cause For SB Paws she now has a loving forever home!

Saigon is loving her new life and has a big backyard that she just loves. And she loves her new owners, too.

Thanks to Hope For Paws for being patient and knowledgeable and taking the time to rescue a very deserving little girl.

Source: The Animal Rescue Site