Animals
Service Dog Lies Down In Airport And Won't Move – Travelers Spot The Problem And Rush To Her Side
Service dogs are incredible creatures.
What they do for their human charges is borderline miraculous, which is why they're such special animals.
Perhaps that's why, when a service dug unexpectedly laid down in a busy airport last Friday, everyone was quick to rush to her aid.
But what could be bothering the healthy-looking pooch? She had seemed perfectly okay until she decided she just had to stop and sit down.
Well, this 2-year-old yellow lab named Eleanor "Elle" Rigby (named after The Beatles song, of course) didn't have anything wrong with her.
All done! #AirportPuppies @FlyTPA @CityofTampa pic.twitter.com/NIoXr0HCZW

— Tampa Fire Rescue (@TampaFireRescue) May 25, 2018
In fact, she was pregnant!
And evidently, she was a lot further along in her pregnancy than her owners realized, because it came time to deliver right in the middle of Tampa International Airport.
So, Elle lay down and immediately went into labor, prompting a flurry of activity around her.
Tampa Fire Rescue and other airport personnel were quickly on hand to help out, and we're sure Elle was appreciative of all the good-hearted attention.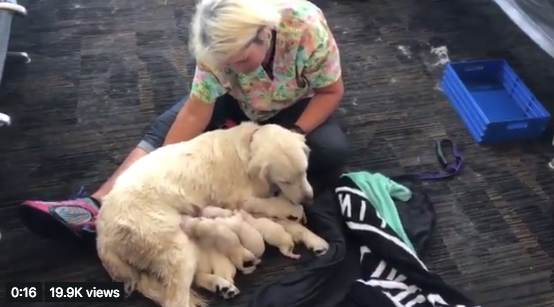 The best part? The father, a yellow lab named Nugget and another service dog, was on hand to witness the birth of his puppies!
With Nugget and literally hundreds of interested travelers looking on, the new mother ultimately gave birth to a big healthy litter.
She ended up having a total of eight puppies; seven males and one female.
And they're all absolutely adorable, as they should be. 🙂
The only downside to this story is that the woman's owner and her daughter missed their flight due to this happy event, and now they'll be driving 1,000 miles from Tampa to Philadelphia.
Well, they've got eight new members of the family, so that's a blessing in and of itself!
Source: NY Post