Animals
Trapped Animal Stuck In A Dirty Sewer Pipe – Pedestrian Peeks Inside, Races To Call 911
Animals can get into some very tough scrapes.
But Ryan Thomas and his family never expected that they'd experience this strangeness firsthand…
They were walking along with their young puppy, MJ, when suddenly … MJ just up and disappeared.
That's right – poof! – gone. She was there one minute and then the next, it was like she'd never existed.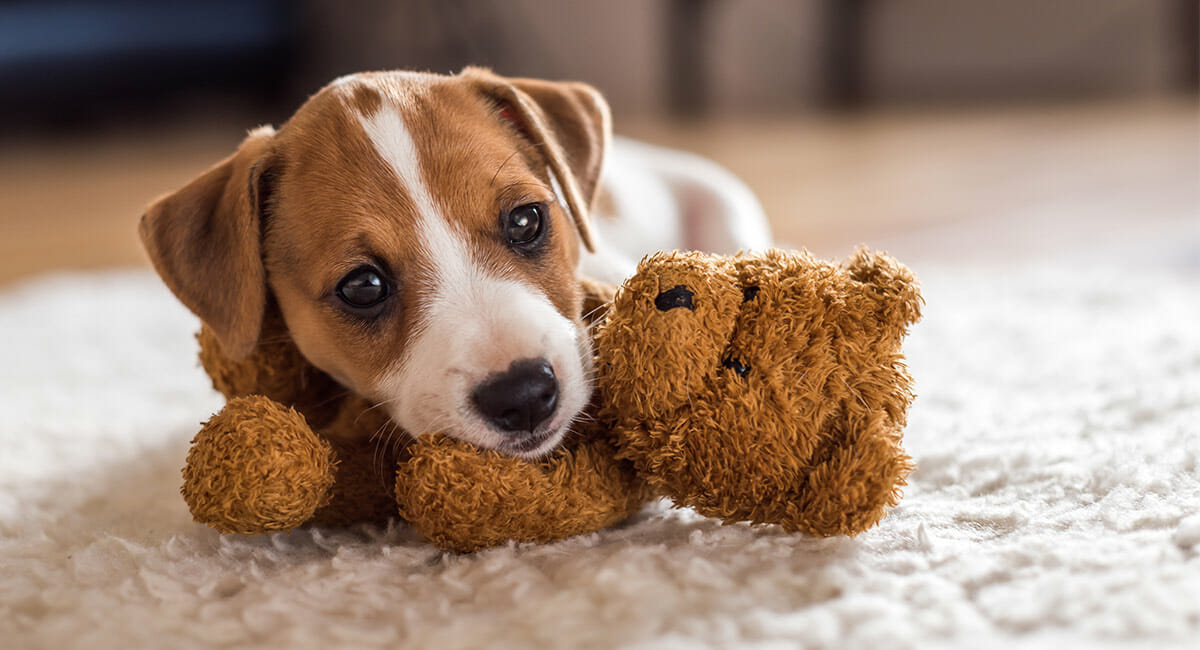 Ryan and his family were shocked. Where could MJ have gone that quickly? And why didn't they hear or see anything?
Well, as it turns out, poor MJ had fallen into a very sticky situation, though Ryan could scarcely believe it.
He thought he heard a noise, and he bent over to check a hidden sewer drain. He figured it couldn't really be MJ in there … could it?
But it was!
Animal Rescue; 9900 block of Evergreen Terrace Dr; Station 33 area; Puppy fell in sewer pipe approx 6ft down; @CLTWater assisting @charlottefire pic.twitter.com/ZlnhLFFJm4

— Charlotte Fire Dept (@CharlotteFD) July 12, 2018
MJ had tumbled 6 feet down the pipe and Ryan had heard her whimpers. But the bad news was that nobody could reach MJ.
So, Ryan quickly called for help; he got a hold of the Charlotte Fire Department, and they rushed to the scene.
But the rescuers soon realized that this wasn't going to be an easy rescue. Said Captain Jackie Gilmore, CFD information officer:
"They grabbed their shovels and started digging around the opening, hoping that it wasn't that deep.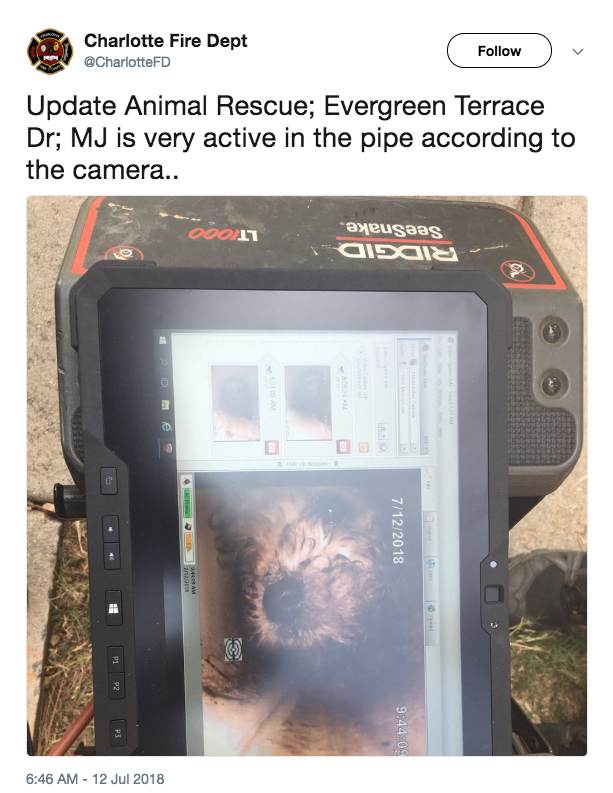 But as they were digging, the drain got deeper and deeper and deeper, and they determined that they needed additional manpower and heavy equipment."
That's right, they needed more help!
They called the Charlotte water department and they also started pumping oxygen into the pipe, so poor MJ wouldn't suffocate.
When the water department got there, they lowered a camera to check on the pup's position, and then everyone started digging an 8-foot trench in the center of the road.
Update Animal Rescue Evergreen Terrace Dr; MJ rescued and reunited with family; thanks to @CLTWater for their manpower & resouces pic.twitter.com/XJDxRznXMJ

— Charlotte Fire Dept (@CharlotteFD) July 12, 2018
They had to reach that pipe while it was still intact!
"We had a goal. We knew we were going to get MJ out, we just had to figure out how we were going to do it," Gilmore said.
"But we were going to get her out no matter what."
Well, they finally managed.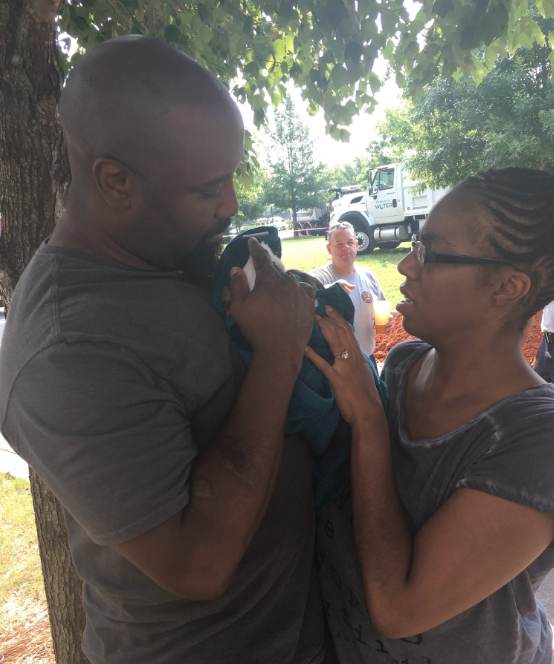 After several hours of careful and determined digging, the rescuers reached MJ and as Gilmore said, "there was a lot of jubilation – everybody was clapping and high-fiving."
And of course, Ryan and his family were overjoyed!
But lesson learned for all you pet owners:
Your beloved pet can disappear at any moment, so keep a close and wary eye!
Source: NTD.TV