Animals
She's Out Walking Her Dog When A Strange Man Grabs Her Arm – What Happens Next Is…Wow
Dogs are wonderful companions.
But very often, they're more than that: They're also protectors.
A 10-year-old girl knows this better than most, as it's likely her furry friend just saved her life.
The girl was out walking her dog in William County, Virginia when a mystery man approached her.
The man suddenly grabbed the girl's arm and that's when her loyal buddy sprang into action:
The dog leaped up and bit the man's arm, which caused the would-be kidnapper to release the girl and disappear.
Thankfully, the little girl wasn't injured and neither was the dog.
It's unfortunate that the perpetrator is still at large but at least this girl will sleep safely tonight, and it's all thanks to one heroic dog.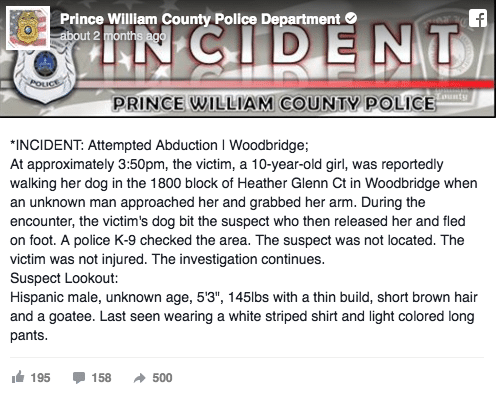 And the ironic part is that the police will be using their K-9 unit to check the area and hopefully hunt down the dangerous individual.
How many reasons are there to own a dog? About 38? More?
We love our canines and they love us! 🙂
Source: Dogington Post