Animals
Widow Adopts The 1 Dog At The Shelter Nobody Wanted – The Reason Will Melt Your Heart
Melani Andrews lost her husband in January.
Then a month later, she lost her dog.
That might be the worst start to a year in recorded human history, so one would completely understand if Andrews felt depressed and lonely, at the very least.
But instead of giving in to that depression, she decided she didn't want to be alone. She wanted to get another pet, one that would make her happy, one she could share her life with.
So Andrews walked into the Front Street Animal Shelter in Sacramento, California to look for her new companion.
But when the Front Street staff heard what she wanted, they were more than a little surprised…
Andrews asked for "the oldest dog you have, the and the one no one wants to adopt."
And so, she was introduced to Jake, a 12-year-old dog who'd come to the shelter as a stray. Poor Jake has bad skin and bad teeth, and he's also suffering from untreatable cancer.
Obviously, this sad creature wasn't high atop the adoption list for most people who came in. But Andrews saw Jake and after spending just a little time together, she made the decision.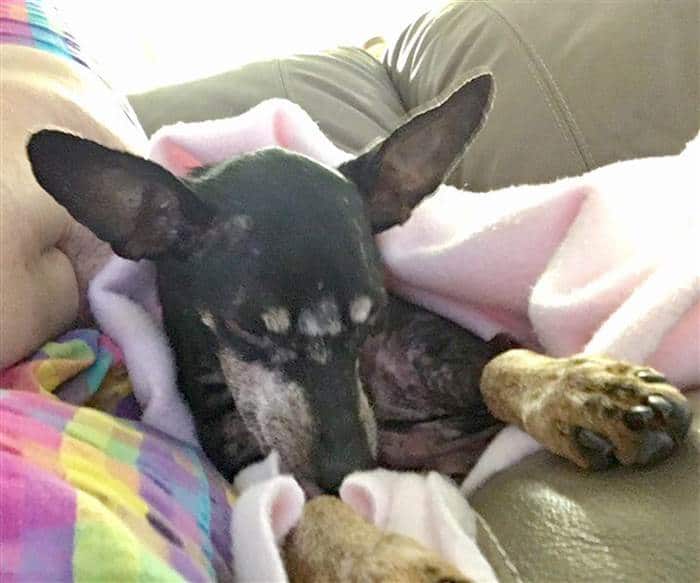 "He's going to come home with me," she said.
Now, the dog that nobody wanted has a new home and Andrews has a new friend. And life is going along pretty well, too.
The two take walks around the neighborhood, Jake "torments the dog next door through the hole in the fence," and he curls up in a fleece blanket on a chair (or in Andrews' bed) to sleep.
Adopting senior dogs isn't common practice, especially when the dog is suffering like Jake. But they can still make for fantastic companions, as Andrews is finding out.
She knows Jake won't be around for long but her goal is to make him happy and comfortable for as long as she can.
It's enough to bring a tear to the eye, isn't it?
Source: Today