Animals
Security Cam Captures Cat-Napping In Progress – The Thief Didn't Count On Kitty's Claws
Who the heck would steal a pet?
That's a question animal lovers just can't answer because it makes no sense. And yet, pet-napping is an unfortunately common occurrence around the world.
However, sometimes the thief in question learns the hard way that you should never remove a pet from its loving home!
That's what happened when a stranger came up to the porch in Lincoln, Nebraska, on which 8-year-old Mo was happily resting.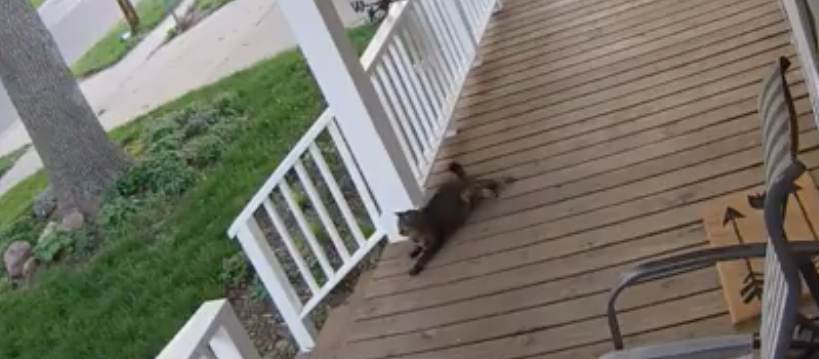 The kitty belongs to Samuel Forest Evertson, and he'd just let Mo outside on a pleasant day for some fresh air. He never anticipated a problem.
And he certainly never expected a cat-napper to show up!
The stranger in question – a 17-year-old girl – did indeed attempt to steal Mo from off the porch, but she made two big mistakes:
Firstly, she didn't count on Mo's determination to stay with his owner. And second, she didn't count on the security camera Evertson had had installed!
VIDEO: An attempted cat-napping caught on camera. This woman seen trying to steal a cat off the front porch of a home on 48th and Holdrege yesterday. The cat escaped just in time.UPDATE: the suspect has been caught.

Posted by Nicole Cousins TV on Thursday, May 10, 2018
You can see the girl snag a scared Mo from off the porch and then run to a getaway car. But seconds later, Mo comes sprinting back … he must've really fought inside that car!
Said Evertson after the unfortunate event:
"He can be feisty. He's pretty strong.

He is fine but definitely more timid [now]. He doesn't like being held."
It's really too bad that such an incident should scar an innocent cat, but here's hoping that in time, Mo will return to being the laid-back, loving cat he always was.
As for the cat-napper, the Lincoln police department caught the perpetrator and she is now being charged with larceny and trespassing.
Well, this is why you have those security cameras up. It's not just for your own safety, but for the safety of your four-legged friends as well!
Source: The Dodo