Awesome
Disabled Soldier's Wife Finds Him Sobbing – When She Sees What's In His Hand, She Starts Crying Too
Brittany found her husband, a disabled Army veteran, crying in the front yard. When she went outside to help, she sees something in his hand and instantly breaks down in tears
———————————————————————————————————-
Our brave men and women in the armed forces protect us each and every day.
They make sacrifices to ensure our way of life and sometimes, they're forced to make the ultimate sacrifice.
Spouses of these uniformed patriots live in fear of the latter, of course, and they also face a variety of trying hurdles.
From PTSD (Post-Traumatic Stress Disorder) to battle scars, both physical and mental, the wives and husbands of U.S. veterans must be strong.
So when U.S. Army combat engineer Christopher Garrett broke down in tears, his wife Brittany was prepared for the worst.
Garrett was part of the Army's 10th Mountain Division and when on assignment in Afghanistan, he took a bullet to the stomach.
His pelvis was shattered and due to that terrible injury, he was able to medically retire.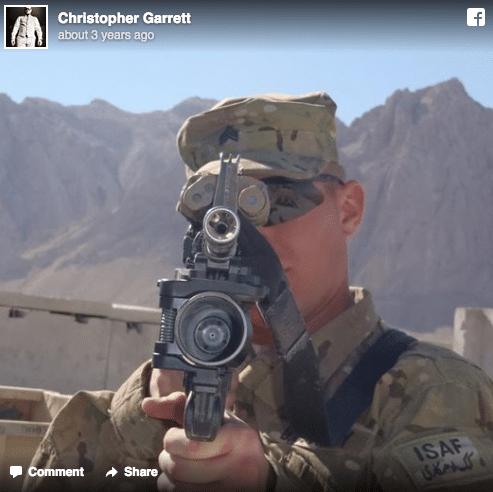 So, what was he crying about out there in the yard? Was the pain too great? Was he having a terrifying flashback? Brittany feared the worst.
She ran out to comfort her husband, and that's when she saw it:
A brand new John Deere riding lawn mower, and a note clutched in her husband's shaking fingers:
"I hope this saves time for the things that matter most in your life. Thank you for your service and for my freedom. Sincerely, A grateful American."
Brittany and Christopher have no idea who did this, but it must've been a kind and sympathetic neighbor.
However, the person's identity is irrelevant. What matters is the gesture and it's one the Garretts won't soon forget.
Though Chris has a long road of recovery ahead of him, he will always know that there are people out there – beyond his wife and family – who appreciate him.
SHARE this story with everyone if YOU appreciate him, too!
Source: Good Inside Us