Inspiration
Tearful Train Driver Announces Delay – When Passengers Hear The Reason, They Rush To Her Side
There's an important lesson to be learned here:
We take too many things for granted far too often. We do it every day of our lives without even thinking about it.
The taxi we take to get to work is merely a tool, as is the bus or the train. We forget that such conveniences are controlled by fellow humans, fellow workers who rarely receive thanks or words of kindness.
In fact, one could argue that those in the transportation industry see the absolute worst of humanity. Traffic, mechanical failures, and other things that get in our way are THEIR fault.
Okay, we know it's not the operator's fault but we have to vent our frustrations on someone, don't we?
But when we hear real emotion in the voice of one of those operators, as we're using one of those aforementioned tools, we make an important realization…
It happened in Melbourne to a group of commuters:
Train driver Court Backman spoke to commuters over the PA system after the train was delayed. When the travelers heard the reason for the delay, they immediately rushed to the driver's side.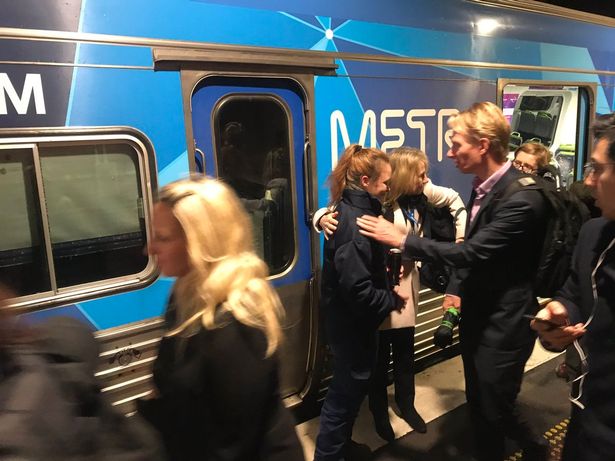 Ever heard of that happening before?
As it turns out, Court admitted to almost hitting a pedestrian who had dashed across a level crossing.
"I've been on since 2am, I get it," she said. "I want to get you guys to work. I want to go home myself. Nobody needs to tap their watches or clap their hands…you don't know why the trains are running late.
I'm sorry for that. I'm sorry for the fact we are running so late."
And when she started to talk about narrowly missing that pedestrian, she started to tear up, which prompted some commuters to comfort her.
That resulted in this picture, which is absolutely fantastic and again: Lesson learned.
Humans operate these tools. They can get tired and cranky and oh yes, they are responsible for many, many lives each and every day.
So let's cut 'em a little slack and when we hear tears in their voices, maybe that's the time to act like fellow humans.
Source: Mirror.co.uk